AUGUST HEAT...IT'S JUST TOO HOT TO COOK!
But we still love to entertain our friends...
Here's one of our favorite company meals...
SHRIMP AND PASTA SALAD
with Basil and Garlic Dressing
Chilled Asparagus Spears
Chilled French Green Beans
Fresh Tomatoes
Fresh Mozzarella slices
Assorted crackers and garlic toasts*
Lemon Basil Sorbet and Shortbread (from Fresh Market)
The recipe for the Shrimp and Pasta salad was given to me by my wonderful sister-in-law. It's simple, make ahead, and super delicious...perfect for a hot summer's day! It's even easier when you purchase cooked, peeled and deveined shrimp from your local grocery or fish market!
BASIL AND GARLIC DRESSING
(makes about 1/2 cup)
2 Tbsp. red wine vinegar
1 Tbsp. Dijon mustard
3 large garlic cloves, minced
1/2 tsp. salt
Pinch of freshly ground pepper
1/2 tsp. Tabasco sauce
1 heaping tsp. fresh basil, minced
1/2 cup extra virgin olive oil
SALAD
1 4oz. jar/can marinated artichoke hearts, drained and chopped
1/2 cup sliced ripe (black) olives
6 oil-packed sun-dried tomatoes, chopped
1 tsp. crushed red pepper flakes
1/2 tsp. salt
1 pound small shrimp, boiled, deveined, and chilled
1/2 pound Penne Rigate, cooked (al dente), rinsed and chilled
1/2 cup grated Parmesan
Red-tipped leaf lettuce to line the plates...
Prepare the dressing by combining all ingredients except the olive oil in the work bowl of a food processor fitted with the steel blade.Process until smooth. With the processor still running, slowly add the olive oil through the feed tube. Process an addition 15 seconds to form a strong emulsion. Refrigerate.
To prepare the salad, combine all ingredients except lettuce leaves in a large bowl. Toss to blend well. Add the dressing and stir to incorporate. Refrigerate until ready to serve. Serve the salad on individual serving plates lined with the lettuce leaves.
Serves 4-6.
THIS DISH WAS SO EASY TO PREPARE...AND DELICIOUS!
The Lemon Basil Sorbet was made with my Cuisinart Ice Cream Maker...the recipe was from the accompanying cookbook. It was quite TART...which may be due to the fact that I don't think I added all the suggested sweetener. (I experimented with using a sugar substitute. OOPS!) Thanks to our innovative guests, we learned that the sorbet was delicious when added to our glasses of water. It made a refreshing lemonade-style beverage. (Thanks for experimenting, Becky!)
Remember...even when you goof up a recipe, you can laugh about it with your guests. It just adds to the fun and the stories...and the teasing! (One day, I'll live this one down...)
Especially when it's HOT, I like to purchase parts of the meal. Not only does it keep the kitchen much cooler, it keeps me more relaxed and allows me to truly enjoy my guests. (There was a time when I wouldn't be caught dead doing this...I finally got smart!)
* For this meal we served flavored Triscuits (Olive Oil and Rosemary, and Fire-roasted Tomato) and garlic toast rounds purchased from the bakery department at our local grocer. (Both Publix and Fresh Market always have these on the shelves.)
Our table design was simple...
My favorite burlap fabric
Rattan chargers (WM)
Coral plates (C&B)
Rattan candle holder (hg)
Asst. Shells and Starfish
Fishing Floats (found on various beaches)
Coral printed napkins (The Fresh Market)
Starfish Dessert Plates (TJM)
Dessert Dishes (C&B)*
We kept everything very simple...ate in the breakfast room, overlooking the pool. Lots of wonderful Quinta da Aveleda Vinho Verde (wine) accompanied the meal...mmmm.
(This is my new favorite...and it came in pale blue bottles...they're already on my bottle tree!)
*In case you are looking for a very versatile dessert dish, check these out... They're from Crate and Barrel...$2.50 each or 12 for $24.95. I think I have used these dishes MORE than anything else in my cabinets. They can be used for so many things...and they hold just the right amount of dessert.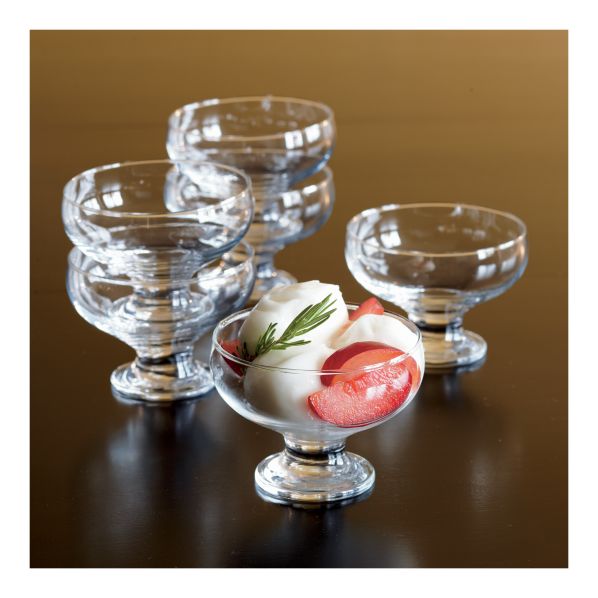 Have a wonderful weekend...and stay cool!
Jane